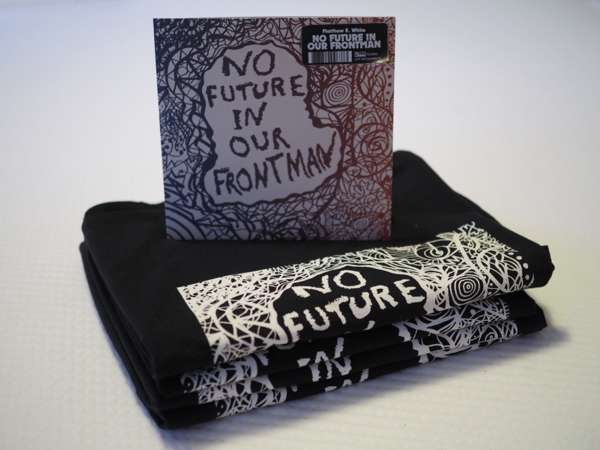 No Future In Our Frontman – Vinyl + T-Shirt Bundle
Matthew E. White "No Future In Our Frontman" on 7" vinyl, coupled with a b-side instrumental version of "No Future In Our Frontman."
Tshirt: Screen printed white on black classic Hanes Beefy T short sleeve shirt. Artwork is by musician and artist Lonnie Holley. Holley's sculptures are constructed from found materials in the oldest tradition of African American sculpture. Objects, already imbued with cultural and artistic metaphor, are combined into narrative sculptures that commemorate places, people, and events. His work is now in collections of major museums throughout the country, on permanent display in the United Nations, and been displayed in the White House Rose Garden.
All proceeds split between NAACP Legal Defense Fund (www.naacpldf.org) and the Innocence Project (www.innocenceproject.org)
$28.05
Select from options below to add to basket
This bundle also includes:

No Future In Our Frontman – T-Shirt

Screen printed white on black classic Hanes Beefy T short sleeve shirt. Artwork is by musician and artist Lonnie Holley. Holley's sculptures are constructed from found materials in the oldest tradition of African American sculpture. Objects, already imbued with cultural and artistic metaphor, are combined into narrative sculptures that commemorate places, people, and events. His work is now in collections of major museums throughout the country, on permanent display in the United Nations, and been displayed in the White House Rose Garden.

All proceeds split between NAACP Legal Defense Fund (www.naacpldf.org) and the Innocence Project (www.innocenceproject.org)

7" vinyl not included

This bundle also includes:

No Future In Our Frontman – 7" Vinyl

Matthew E. White "No Future In Our Frontman" on 7" vinyl, coupled with a b-side instrumental version of "No Future In Our Frontman."

All proceeds split between NAACP Legal Defense Fund (www.naacpldf.org) and the Innocence Project (www.innocenceproject.org)